Engine Check Light is ON? Probable causes to look upto!
Loose fuel cap
A loose fuel cap is one of the most common reasons why the check engine light turns on. The cap is a crucial part of a car's fuel delivery system. It notably prevents gasoline fumes from leaving the fuel tank, and it helps keep the whole system under the correct pressure.
If your check engine light turns on immediately after a fill-up, pull over and make sure the cap isn't loose — or still on your car's roof. Sometimes the cap needs to be replaced, but it's not a problem that's going to hit your wallet hard.
Catalytic converter failure
The catalytic converter is integrated into a vehicle's exhaust system. It turns the carbon monoxide generated during the combustion process into carbon dioxide. It's a fairly simple part, and its failure can often be prevented. That's good news, because a new one costs between $200 and $600 depending on the make and model. Every late-model car that runs on gasoline has a catalytic converter.
Performing regular maintenance (such as oil changes) on time is key to keeping your car's catalytic converter in working order. If you live in the city and mostly drive short distances, take your car on the highway every now and then to ensure the catalytic converter doesn't get clogged. And as always, keep your eyes and ears open for unusual sounds or discolored smoke coming from the exhaust.
Spark plug/ignition coil issues
Put simply, an ignition coil generates the electricity the spark plugs need to ignite the fuel and air mixture in the cylinders. Classic cars have a single coil, but many modern vehicles use one coil per cylinder. If your ride has a V8 under the hood, you could have eight separate coils. The monstrous Bugatti Chiron has 16. No matter how many you have though, a malfunctioning coil will almost certainly trigger the check engine light, but remember, if your car burns diesel, you have neither ignition coils nor spark plugs.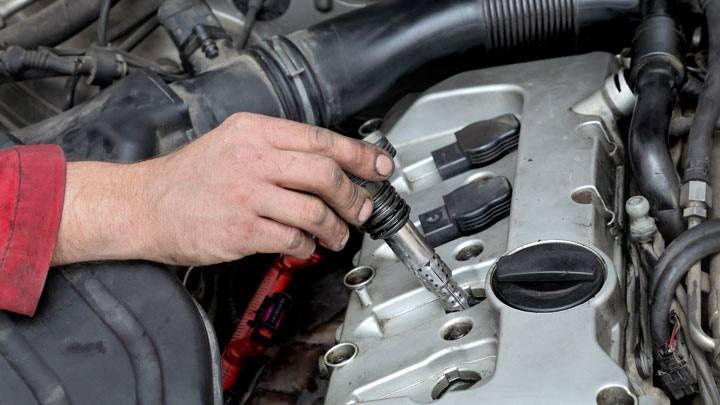 Bad spark plug wires
As its name implies, a spark plug wire transfers electricity from the coil to the spark plug. Without it, the fuel and air mixture in the cylinders wouldn't ignite. The vast majority of cars use a single wire per cylinder, but there are models — notably, some older Mercedes-Benzes — with two spark plugs per cylinder, and consequently two wires.
Vacuum leak
Every car has a vacuum system that performs a wide variety of functions. The brake booster is vacuum-operated, and the vacuum system also helps lower harmful emissions by routing the fumes as gasoline evaporates through the engine. If your car's idle begins to surge or settles at an unusually high rpm, a vacuum leak could be the culprit.