FAQs which may save you from a bad Vehicle Day!
1. What can I do if my car overheats?
If you are driving at normal highway speed and the vehicle starts to overheat, turn off the air conditioner, turn on the heater and immediately pull over to the shoulder. Odds are if the vehicle starts to overheat at highway speed, there is a problem in the cooling system such as low coolant, a clogged radiator or a broken drive belt or burst hose. Once at the shoulder, shut off the engine, open the hood and let the engine cool down – 20 minutes minimum. Once any overboiling stops and the engine has cooled, look for obvious signs of trouble. DO NOT attempt to open the radiator cap unless the engine is off and the top of the radiator is cold. If there is no noticeable problem such as a broken drive belt or burst hose, you can then add a coolant/water mixture to the radiator or overflow reservoir, start the vehicle and drive slowly to a service facility.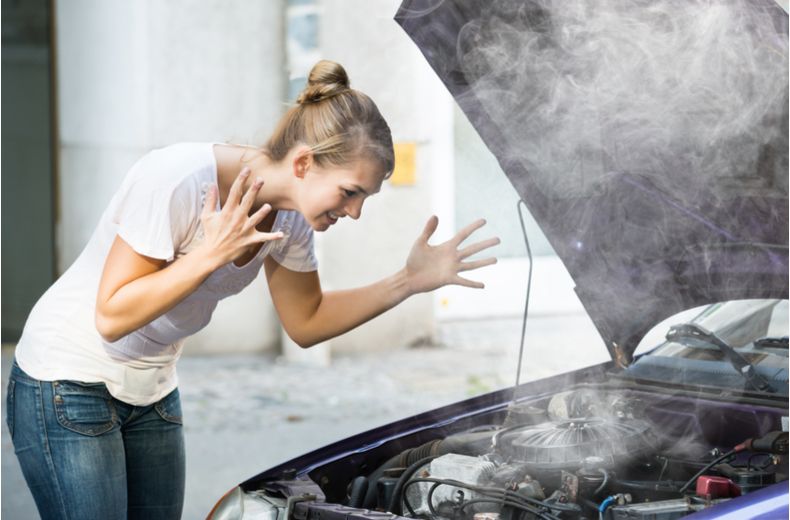 2. How often should my car get a tune-up?
The term "tune-up" actually applies only to older cars without electronic ignition (before 1981). On these vehicles a tune-up would generally be required every 15,000 – 20,000 miles and consisted of replacing the spark plugs, ignition contact points, rotor and distributor cap and adjusting the ignition timing as well as the carburetor.
On modern vehicles equipped with electronic ignition, fuel injection and computer controls, the term "engine performance maintenance" is a more accurate term. A "tune-up" for these newer vehicles is an orderly process of inspection, computer diagnosis, testing and adjustment to maintain peak engine performance, maximum operating efficiency and low exhaust emissions. During this process, spark plugs, plug wires, sensors, and modules may be replaced. The frequency at which a newer vehicle needs a tune-up is dependent more upon driving conditions than mileage and recommended tune-up frequencies vary between 30,000 – 100,000 miles, depending on the manufacturer. To learn how often your vehicle needs a tune-up, check your owner's manual or speak with your local automotive service provider.
3. Why are my brakes making noise?
If you hear a grinding or squealing sound when the pedal is applied, you probably need new brake shoes or pads. Brakes shouldn't make any noise as they operate. Even if the actual problem turns out to be something minor, the only safe assumption is this one: noisy brakes are unsafe brakes. Postponing service is unsafe and could raise the cost of repairs later. If your brakes are making noise, get them inspected or serviced right away.
4. Does my transmission ever need service?
Most car care experts advise having an automatic transmission's fluid and filter changed every two years or 24,000 miles, to keep it in good working order. This is especially important if the vehicle is more than five years old. Many vehicles newer than five years old may need scheduled service less often and some new vehicles have transmissions that need no scheduled service for the life of the car.
By-the-book service, however, may not be adequate if your vehicle is driven hard, tows a trailer, goes off-road or carries a camper. Under these conditions, the fluid and filter may need to be changed more often — every 12 months or 12,000 miles –because dirt and moisture buildup in the fluid can cause internal damage. Heat buildup can also be a problem. The harder the transmission works, the hotter the fluid gets and the quicker the fluid breaks down. To find out the recommended service schedule for your vehicle's transmission, check the owner's manual or talk with your local automotive service provider.
Manual transmissions generally need no regularly scheduled service, but may need service due to worn clutch and throw-out bearings and broken synchromesh gears. Check your owner's manual for specific information on manual transmission service or talk with your local automotive service provider.