How to Drive in Snow Safely
If you live where the snow flies, you've seen overconfident drivers blow by you on a snowy road and wondered if—and maybe even secretly hoped—they'd end up in a ditch. Whether they did or not, one thing's for sure: you don't want to be that person. The key to safe driving in snow is being smooth with the steering wheel, accelerator, and brakes. Why?
Jerky movements with the controls easily unstick tires that have a tenuous grip on the slippery road, so every turn of the wheel, push of the brakes, and movement of the throttle must be deliberate, gentle, and gradual. Pretend there's a cup of scalding coffee in your lap and drive so as not to spill it.
The slipperier it gets, the farther down the road you should look—and think. Anticipate what you'll need to do next. Slow way down for turns. Allow double the stopping distance when the road is wet, triple on snow, and even more on ice. Driving carefully and safely in the snow takes extra concentration.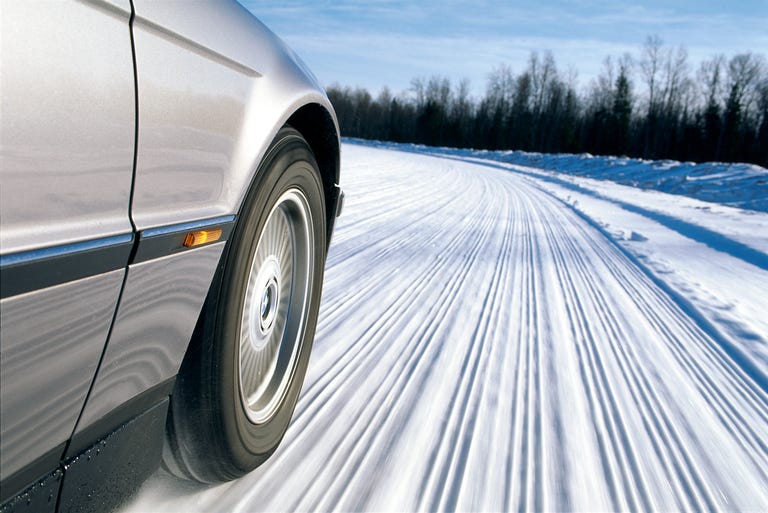 How much traction do you actually have on a snowy road? One way to know before you get into trouble is to understand what one particular small, amber, flashing light in the instrument cluster means. (It's an outline of a car with squiggly lines behind it.) If you're accelerating in a straight line and this light is blinking, this is the stability-control system warning you that the wheels that drive the car are slipping. Heed it. And ease up on the accelerator so the tires regain their grip.
If you're turning and see a blinking amber light, this is also the stability-control system alerting you that the car is beginning to slide from your intended path. Again, ease back on the accelerator until you are no longer applying any throttle; this allows the car to regain grip. And do not accelerate aggressively when turning tight corners in town on snowy or slushy streets. Always ease into the accelerator so that nothing untoward happens abruptly.