Own the Night: Tips for Driving After Dark
Driving at night is a dreadful and dangerous. Road fatalities triple during the night, according to the National Highway Traffic Safety Administration.
Human eyes don't help much either. They're terrible at seeing at night with depth perception, peripheral vision, and ability to distinguish color diminished. Although headlights illuminate the road, typical low beams stretch from 160 to 250 feet in front of your vehicle, while high beams shine about 350 to 500 feet ahead. When you're driving at 60 mph, it takes more than 200 feet to stop, so there's not much room for error.
Aim Your Headlights:
We've found that headlights even in brand-new cars are sometimes uneven or pointed lower than necessary. So it's worth the effort to aim them correctly. If you do it yourself, use the instructions in your owner's manual. And be patient. It may take a few tries before you have them pointed perfectly. Just make sure those newly aimed lights are not blinding oncoming traffic.
Dim Your Instrument Panel and Dash Lights: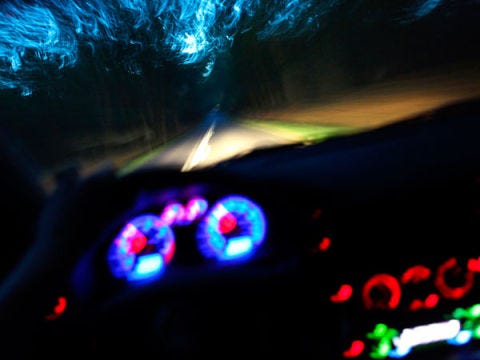 Cars come with dashboard dimmer switches for a reason. With bright dashboard LEDs and large infotainment screens finding their way into vehicles, there are a lot of sources of unnecessary and distracting lighting inside a vehicle that can diminish your vision. Dimming dash lights can remove reflections on the windshield and allow your eyes to better adjust to the darkness ahead, improving nighttime visibility
Driving at night means encountering nocturnal animals of varying sizes, like raccoons and opossums. However, there are larger, more deadly and dangerous animals, like deer, elk, and moose, that can cause serious damage. As noted in point number one, even high beams fail to illuminate much beyond your stopping distance, so avoiding a deer or other animals takes a particular skill—catching your headlights reflected in the eyes of an animal. These tiny bright spots often appear far down the road, giving you more time to slow down or come to a stop.
Don't Stare at Oncoming Lights:
Bright lights can seriously disrupt your concentration at night. Inside the car, your eyes are used to the dim glow of the instrument panel and the dark road ahead. It's very easy to become distracted and stare into a bright road sign or the headlights of an 18-wheeler headed your way without even realizing it. Turn your gaze away from other lights on the road, and don't look at oncoming high beams.
Even though you may sometimes find yourself trying to determine if that oncoming car's high beams are on, or if they're just mis-aimed, look away. If a car behind you has its high beams on, often you can move your rearview mirror to reflect light backward to alert the driver, and to get the reflection away from your own eyes.
Give Your Windshield a Wipe With Newspaper:
Windshields that appear clean during the day may reveal streaks that can cause glare at night. A detailer's trick is to polish glass with newspaper to remove residue. Try not to touch the inside surfaces of your windshield, side windows, or mirrors with your hands, even if it's to wipe off mist. The oil from your skin will smear, and light will glare when it shines through any place where you touched the glass. Instead, keep a cotton or microfiber cloth in your door pocket.